By PAUL DEAN
Jay Brentlinger's credibility gap is 13 years wide.
In 1952 1st Lt . Jayson R. Brentlinger, U.S Air Force, received a colonel's promise of a set of Nationalist Chinese Air Force wings honoring his work training chineses fliers.
Last week Jay Brentlinger, co-owner of Mark Imports auto dealers receiver an envelope within an envelope from Washington.
THIRTEEN years after the original postmark it contained a yellowing certificate of appreciation and Brentlinger's long-awaited wings.
The golden emblem was clouded with black tarnish. The signature of Gen. "Tiger" Wang Shu-ming had faded. So had the general. He was put out to pasture by President Chaing Kai-shek in 1959.
"I'd have been prepared to bet $10,000 to a dime that I wasn't going to receive those wings" said Brentlinger yestarday. "So this long afterward I'm just tickeled pink."
AS A JET pilot stationed at Luke AFB in 1954 Brentlinger was assigned to training a top-brass class of Chinese officers in aerial gunnery and instrument flying aboard F84 Thunderjets.
"And at the end of the course, this Chinese colonel told me he appreciated the training and wanted to award me a set of pilots wings" explained Brentlinger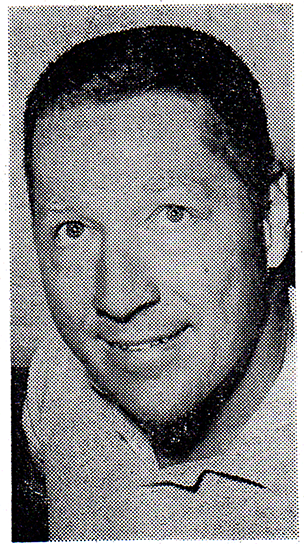 Jay Brentlinger


Finally Gets Chinese Wings
"I never quite forgot about getting them because those Chinese were always such gentlemen and people of their word.
THEN came the package from the Air Force's awards division directorate of personnel.
A stamp on the original envelope from the Chinese Embassy in Washington indicated that the award was pigeonholed at the State Department since 1955.
A covering letter dated June 13, 1967, simply told the ex-lieutenant he is now authorized to wear the Chinese wings on a uniform he mothballed for keeps in 1962.
SO I'M planning to mount them along with my USAF wings, have them framed and hang them in my office," he added.
Brentlinger, of 427 West Wilshire, Scottsdale, has no explanation for the 13-year hangup beyond "normal military red tape."
Yesterday, the red tape lead directly to the Air Force's awards division at Randolph AFB, Tex.
A spokesman explained that Brentlinger's wings, along with thousands of similar decorations, were delayed pending the passing of Public Law 89-573 authorizing military personnel to accept and wear foreign awards.
"FOR years the State Department has been accepting these decorations rather than insult the country involved," the spokesman said. "But without official authorization to present them we just had to let them pile up."
Since the order became final last month, Randolph AFB has processed 2,000 foreign awards to Air Force personnel alone.
"So Lt. Brentlinger's award wasn't mislaid - it has just taken us 13 years to get the law through!" he added.